Jour278 Webcast News Production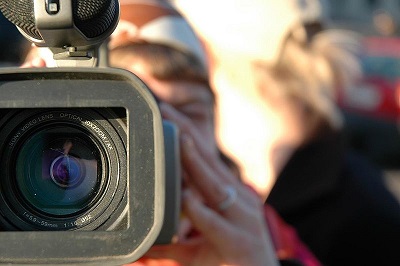 "It is immoral not to be excellent in your craft" - Melvin Mencher
PREREQ: JOUR175
---
Professor Tony Rogers/Office: Rollins 125/Phone: 215-968-8165
e-mail: bucksjournalism@gmail.com
Office Hours:
Important: Here's how to forward your Bucks
e-mail to your personal e-mail
---
---
REQUIRED BOOKS AND MATERIALS
Bring your flash drive to EVERY class and carry a reporter's notepad with you at all times. You never know when you'll come across a news story - an armed robbery or a fire, for instance - in progress.
---
ABSENCES, PLAGIARISM, ETC.
ABSENCES: Attendance will be taken and chronically absent students will see

their grade in the class quickly drop. If you have to miss class and have a legitimate excuse, let me know. Also, if you miss class, it's up to YOU to find out what assignments you missed by checking with me or going to the Assignments Calendar.
LATENESS: Chronically late students will be dropped a letter grade.
LATE WORK: Deadlines are crucial. Unexcused late work will be dropped a letter grade.
---
QUIZZES
QUIZZES: There will be quizzes on readings from the textbooks as well as weekly news quizzes, so read at least one newspaper or news website daily. Many can be accessed from the Virtual Newsroom.
---
Students will produce several types of video reports for the class, including:
A person-on-the-street interview report
A profile of a person
A report on a student club
Coverage of an event on campus
---
All students will create their own blog or website that they will use to archive the videos they produce. Students will also create an online resume on their website or blog. Each student's website will be evaluated at the end of the semester as part of his/her final grade.
---
GRADING
GRADES: Your final grade will be based on video reports assignments, quizzes, class participation and extra credit work. Writing assignments count the most.
EXTRA CREDIT: You can earn extra credit by writing as many articles as possible for the Centurion, and/or by becoming an editor.

DISTANCE LEARNING STUDENTS CLICK HERE
---
IMPORTANT NOTE: ALL CAMERAS AND ASSOCIATED EQUIPMENT WILL BE CHECKED OUT ACCORDING TO SERIAL NUMBER. STUDENTS ARE RESPONSIBLE FOR THE CARE OF THIS EQUIPMENT AND FOR RETURNING IT PROMPTLY WHEN ASSIGNMENTS ARE COMPLETE. STUDENTS WHO DO NOT RETURN CAMERAS AND/OR ASSOCIATED EQUIPMENT WILL FACE THE FOLLOWING CONSEQUENCES:
1. YOUR BUCKS TRANSCRIPTS AND RECORDS WILL BE FROZEN. YOU WILL BE UNABLE TO REGISTER AT BUCKS OR TO OBTAIN A TRANSCRIPT FROM BUCKS FOR TRANSFERRING TO ANOTHER INSTITUTION UNTIL THE EQUIPMENT IS RETURNED.
2. YOU WILL RECEIVE A FAILING GRADE FOR THIS CLASS FOR THE SEMESTER.
3. BUCKS SECURITY AND SAFETY OFFICE AND THE NEWTOWN POLICE DEPARTMENT WILL BE NOTIFIED.