---
Check the journalism calendar for due dates on assignments and info on upcoming events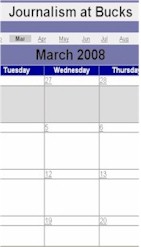 ---

Adjunct journalism instructor Lanny Morgnanesi is Executive Director of College Communications at Delaware Valley College and former executive editor of The Intelligencer in Doylestown. He began his newspaper career at the Bucks County Courier Times in Levittown after receiving an MA in journalism from the University of Missouri.

During his nine years at the Courier Times, he covered Lower Bucks communities, was promoted to county political reporter, wrote editorials and ended his stay as an associate editor.

He resigned to spend 18 months in China, working in the English-language section of the New China News Agency. When he returned to the states in 1986, he took an editing job with the Florida Times-Union in Jacksonville and eventually became Metro Editor. Seven years later he was named Executive Editor at The Intelligencer.

For a time, Lanny hosted a public access TV show called The Intelligencer Monthly. He served a number of years on the board of directors of the Pennsylvania Society of Newspaper Editors and is an active member of the Pennsylvania Press Association.
---
English Professor Stephen O'Neill, who teaches advertising copywriting, earned his B.A. in journalism and English from Duquesne University and an M.A. in English from Carnegie Mellon University. He has worked in advertising and has taught at Bucks for nearly 30 years.
"The reporting skills I learned at Bucks have helped me earn eight first-place writing awards and a nomination for the Pulitzer prize for my newspaper. The teachers are like good newsroom editors - tough, smart and always pushing you beyond what you think you're capable of."

-J.D. Mullane, investigative reporter, Bucks County Courier Times

For more information call 215-968-8165 or e-mail journalism@bucks.edu