---
Check the journalism calendar for due dates on assignments and info on upcoming events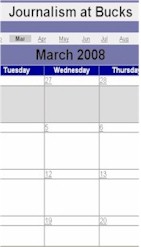 ---

Things to remember about writing to video:
The video should match the voiceover. There's nothing worse than having a VO that has nothing to do with the video footage being shown. It's confusing to viewers and they'll remember less of what the report was about.

Always watch your video footage before writing the script. It's impossible to write to video if you don't know what the video is. Even on a tight deadline, always take a quick look at the video to get a sense of what you have.

Do a standup if you have to convey information for which there is no matching videotape.

Know Your Story Before You Go. Do as much research as possible about your story before you go out into the field. With that research you can start to sketch out your story before you leave the newsroom. If you have an idea of how you're going to tell the story, you'll know what video to get.

Communicate with Your Photographer. If you're working with a camera person, he or she should know everything you know about the story. That means sharing your research and your preliminary thoughts about how you'll tell the story.

Be Open to Input from the Photojournalist. The best stories are told by reporters and photojournalists who work together as a team. The photojournalists may capture some compelling footage or sound and suggest that's a strong way to open your story.

Portions of this tutorial come from the RTNDF Educator in the Newsroom Lesson Plans