Jour276: Feature Writing for

Newspapers and Magazines
"To be an artist means never to avert one's eyes" - Akira Kurosawa
PREREQ: JOUR175
Course objective: To learn how to write feature stories for print and online news outlets.
---
Professor Tony Rogers
Office: Rollins 125/Phone: 968-8165/E-mail: bucksjournalism@gmail.com
Important: Here's how to forward your Bucks
e-mail to your personal e-mail
---
IMPORTANT LINKS
---
Newswriting on Deadline, by Tony Rogers (buy it used online or at the bookstore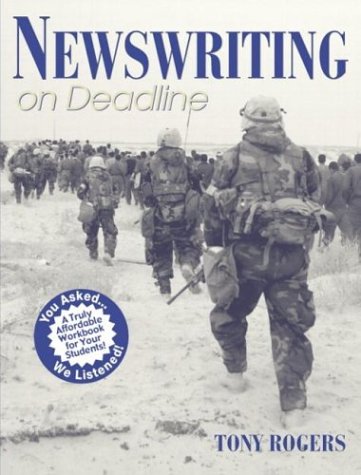 and be sure to sell it back to them at the end of the semester.)
The Associated Press Stylebook and Libel Manual

Carry a reporter's notepad with you at all times. You never know when you'll come across a good story. Also, use it for jotting down story ideas.
---
WRITING
You will write five major articles for this class. You will complete two drafts of each article. I will edit the first draft and return it to you, you will make whatever changes are needed and then give me your final draft. Your grade will be based on your final draft. You will also submit a final draft to the Centurion. However, you will write only one draft of the spot feature, which is due the day after the event you'll be covering, at a time to be determined by your instructor.

There will also be regular in-class feature writing exercises. You are also required to write at least two articles for the Centurion during the course of the semester
All stories must follow AP style.

Feature stories by nature tend to be longer than hard news stories, typically a minimum of 800 to 1,000 words as opposed to the 500-word pieces you did in Jour175.

E-mail all stories to your instructor and to the Centurion at buckscenturion@gmail.com. Since we hope to publish as many of these stories in the Centurion as possible, be thinking about visuals to accompany your story - photos, graphics, etc. See the Centurion editor if you need to borrow the digital camera.

MAJOR WRITING ASSIGNMENTS
IN-CLASS WRITING EXERCISES
---
READING, CRITIQUES, BLOGGING, ETC.

Since this is a feature writing class, you should be reading articles written by those who have mastered the form. Check my Articles page and the Writers to Read page. I recommend the Sunday New York Times magazine, the daily page one feature in the Wall Street Journal, The New Yorker, Vanity Fair, Newsweek, The Washington Post Style section, Rolling Stone.

I will regularly give you feature stories to read. For every story you're assigned to read you must complete the ARTICLE discussion worksheet and enter your answers on one of the blogs below. Read your classmates' critiques on the blog and be prepared to discuss these stories in class. I consider class participation very important and expect EVERYONE to contribute to these discussions. Also, throughout the semester I will ask each of you to bring to class a feature story you particularly liked. I'll make copies of it and we'll discuss it in class.
---
ABSENCES, PLAGIARISM
ABSENCES: Unexcused absences quickly hurt your grade. If you miss class, it's up to YOU to contact me to find out what you missed.

LATE WORK: Deadlines are crucial in the news business. Miss a few in the real world and you'll be fired. I will lower your grade on late work.

---
QUIZZES
QUIZZES: There will be weekly news quizzes. Read at least one newspaper daily or scan the AP wire.
---
EXTRA CREDIT, GRADES, ETC.
EXTRA CREDIT: You earn extra credit by writing as much as possible for the Centurion or some other local publication.

MENTORING: Students can earn extra credit spending a shift with a reporter or editor at the Bucks County Courier Times. See me if you want to do this.

GRADES: Your final grade will be based on writing assignments, quizzes, class participation and extra credit work. Writing assignments will count the most. You will write a minimum of 5,000 words for this class.

---
WRITING TIPS
OTHER LINKS