---
Check the journalism calendar for due dates on assignments and info on upcoming events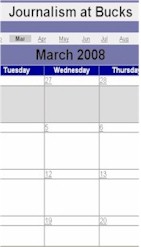 ---

NEWS FEATURE ASSIGNMENT
The news feature is a story that's written in a feature manner but one that focusses on a newsy topic. Typically we do the news feature as a class project that focuses on an important, substantive issue. You should choose a topic that is specific enough to be manageable. For instance, if you decide to write about "crime," the topic is so large and undefined that you'll quickly become lost.
News features typically follow this format:
ANECDOTAL LEAD
You open your story with an anecdote about a specific person that illustrates your topic. For instance, if you are writing about working students, you might start your story by showing the student at work, or at school. Your anecdotal lead should run no more than 3-4 grafs.
NUT GRAPH
This follows your anecdotal lead. The nut graph can be one or several graphs that outline the angle of your story. State plainly and clearly what the story is about, what your main theme and point is.
EXPAND ON THE THEME
The rest of your story explains and proves the angle outlined in your nut graph. You should include more anecdotes and quotes from real people, quotes from experts on the topic, and statistics that back up your story. Stories without any hard statistics or data will be downgraded.
Your news feature should be AT LEAST 800 to 1,000 words. Remember, I'm looking for good writing and solid, thorough reporting.