---
Check the journalism calendar for due dates on assignments and info on upcoming events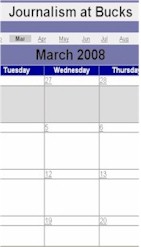 ---

THE PROFILE
You will soon need to give me a note outlining your profile subject.
Here are some ideas:
a local artist, musician, author, etc.
a local politician, town supervisor, school board president, etc.
the chief of police, the district attorney, a judge
someone who runs a homeless shelter, charity, AIDS or cancer hospice, hospital emergency room, clinic, etc.
a handicapped person who has overcome their disability
a college professor
a Holocaust survivor/Vietnam veteran/cancer survivor
an exceptional student - a high schooler who gets a perfect SAT score, a star athlete on her way to the Olympics, a musical prodigy
These are just suggestions. There are many possibilities. Just make sure to choose someone INTERESTING. Good profilees can be creative people and original thinkers; they can also be those who have accomplished something distinctive, or struggled against adversity. If your profilee doesn't fit at least one of these categories, it will be tough to find an angle for your article.
DON'T profile family members, friends or classmates. That's too easy. If you're going to be a journalist you must get used to interviewing people you don't know. Also, avoid shooting for celebrities. They're almost always unavailable to student journalists.
A few guidelines:
You must provide background on your subject - their age, where they grew up and were educated, where they live now, are they married, do they have kids, etc. Also, who and what influenced them, their ideas, their choice of vocation or profession. Interview them in person so you can describe their appearance and mannerisms. Watch them at work. Talk to people who know them. If your profilee is controversial, talk to some of his/her critics. Remember, your goal is to create a true portrait of your profilee, warts and all. No puff pieces.
Read the profiles I'm giving you. Also, check the Writers to Read web page. For great writing, read Rick Bragg's profiles of Oseola McCarty and Howard Wells. For great reporting, read Robert McFadden's news profile of Timothy McVeigh.
Your profile should be AT LEAST 1,000 words, double-spaced.