Newswriting - The Basics
---
The inverted pyramid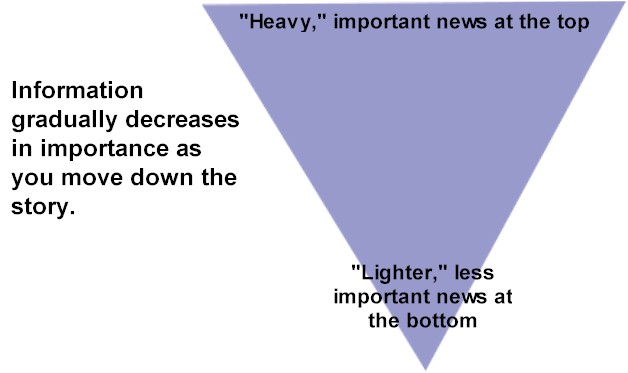 ---
The Lede - The Five W's and the H
Who - What - Where - When - Why - How
Depending on the story, one of these elements might be more important than the others.
The lede is the main point of the story transmitted in no more than 35-40 words.
WASHINGTON -- President Bush, facing doubts about his handling of Iraq amid rising casualties, is asking Congress for $87 billion to fight terrorism and cautioning Americans that the struggle "will take time and require sacrifice."

This format developed during the Civil War as correspondents realized the need to transmit important information quickly.
In general, newswriting should be succinct - meaning short and to the point. Leads should almost always be one just sentence, and the rest of the paragraphs in a news story should be no more than 1-2 sentences each.
"She read the book."
"The book was read by her."
Objectivity and Fairness - giving just the facts, getting both sides
Getting the whole story - being thorough
WHAT MAKES SOMETHING NEWS?
Impact - Conflict - Loss of Life/Destruction - Proximity - Prominence - Timeliness - Novelty
THE ASSOCIATED PRESS AND AP STYLE